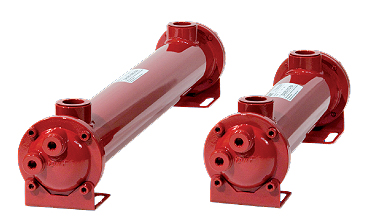 The new SA series is suitable for machines tools, hydraulic presses, injection moulding machines and thanks to their technical solution can provide an high heat removal and high reliability in stress conditions, thanks to new welding technology and tube rolling.
The new heat exchangers SA series are suitable for oil flows from 20 lt/min to 500 lt/min providing heat dissipation up to 75kW; the 2 and 4 ways water circuits (depending on the model) are inspectable and designed to get the maximum water saving.
The tube bundle is made of a very high number of thin tubes to optimize the thermal yield within a compact layout.
The SA series has two subseries: the standard one made of CuDHP (copper) tubes for all industrial applications and the sea water one using CuproNichel tubes.