Mini Hydraulic Power Packs


MPU - Mini Hydraulic Series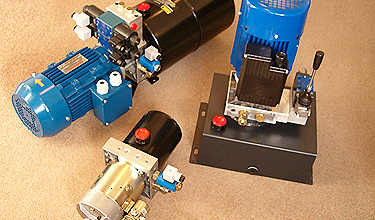 A range of well designed power packs, built to a compact modular concept.
AC or DC Motors
Modular Concept
Flows to 20 Lpm
Pressure to 210BAR
Reservoirs from 2.3 to 15 Litres
Quick Delivery
Main Features
> Compact - for use where space is a premium
> Adaptable - many integral valve options providing numerous standard circuits.
All models supplied come complete with:
> Electric Motor - DC or AC
> Robust Gear Pump
> Pressure Relief Valve
> Reservoir - sizes from 1.5 Litres to 25 Litres.
Options include:
> Lowering valve N/O & N/C
> Multiple CETOP 3 Stackable Circuit Valves
> Directional Control Valves - Manual - Solenoid - Air/Oil Pilot Operated.
> Return Line Filter
Need More Information?
Contact us NOW
> Email Us
> Click for a Call Back